ISOBEL ALLAN LOWE - exquisite, delicate, wall sculptures in porcelain and sometimes platinum and gold leaf, Isobel's work is layered in story telling and nature translated into collectible pieces. Inflorescence (above) is inspired by Monet's waterlilies with petalled porcelain and the shiny glazes. With global installations from Claridges to super yachts, Isobel's work is coveted by design gurus and ceramic collectors alike.
KATE BRAINE, Kind Hearts and Coronets, ceramic in Celadon glaze
33.5 x 14 cm 600
KATE BRAINE is inspired by nature and marine life, describes how she is always trying to push the boundaries of her medium to see how far a sliver of clay can bend or survive 2 -3 firings in the kiln - featured in Vogue, Spaces, World of Interiors and recently at auction at Christies.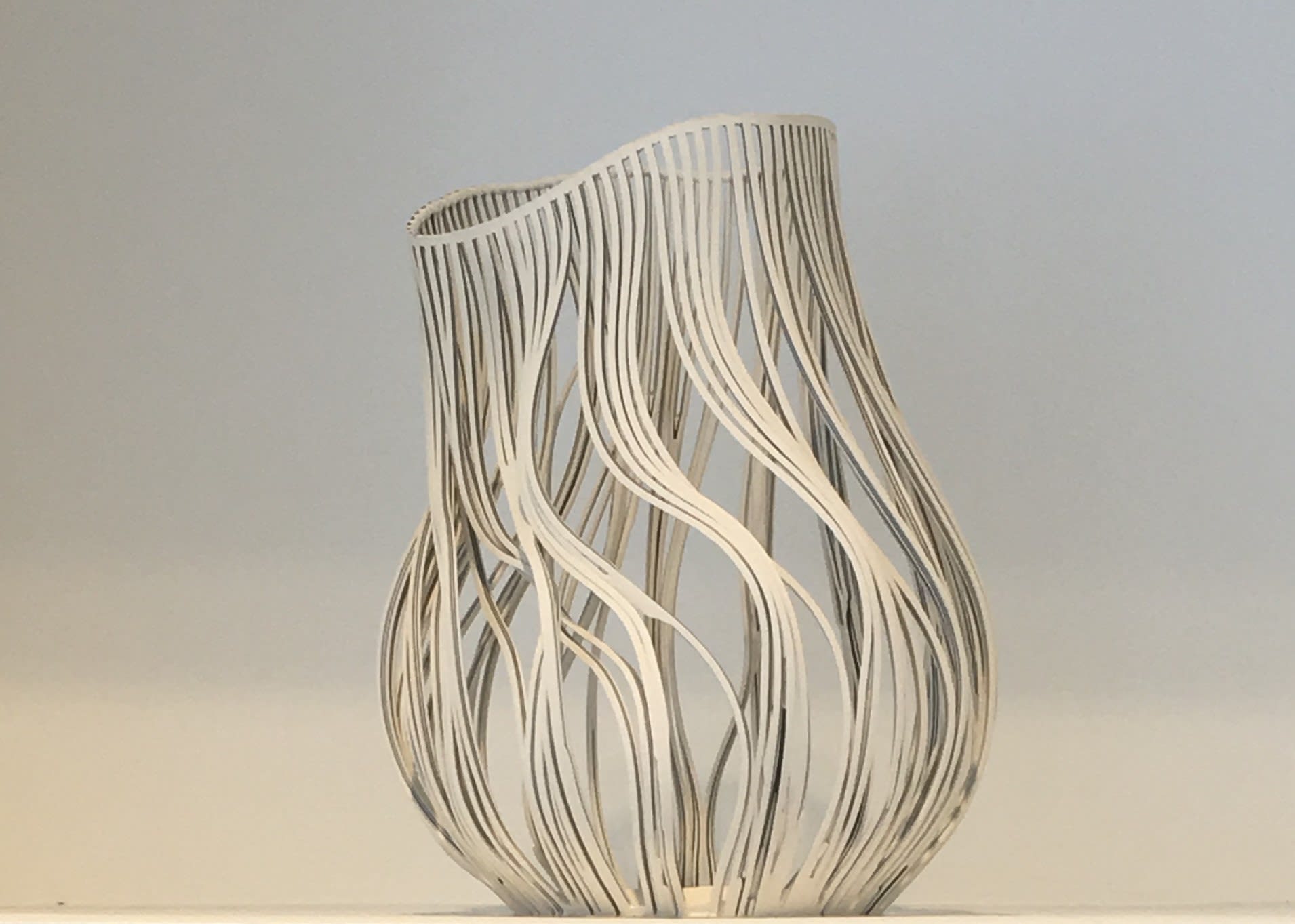 LAUREN NAUMAN - Lines, striped, 2017, porcelain, £1275
LAUREN NAUMAN 's upward career trajectory since graduating from the Royal College of Art in 2016 means her delicate porcelain vessels have been sought after by museum collections such as the NationalMuseum in Stockholm. Her pieces remain refreshingly affordable given her critical acclaim.
---
NINA MOELLER DESIGNS. CURVE Metal bench, wood base with a hand applied metal finish. Single and double seat available.
Conceived by London based interior designer NINA MOELLER, the CURVE Metal bench is a flexible modular seating available as a single or multiple unit. Inspired by the smooth, flowing organic forms in nature, and has beautiful sinuous curves. The award winning design has been featured in Vogue Living Netherlands, Design Lifestyle, Interior Elite and many more.