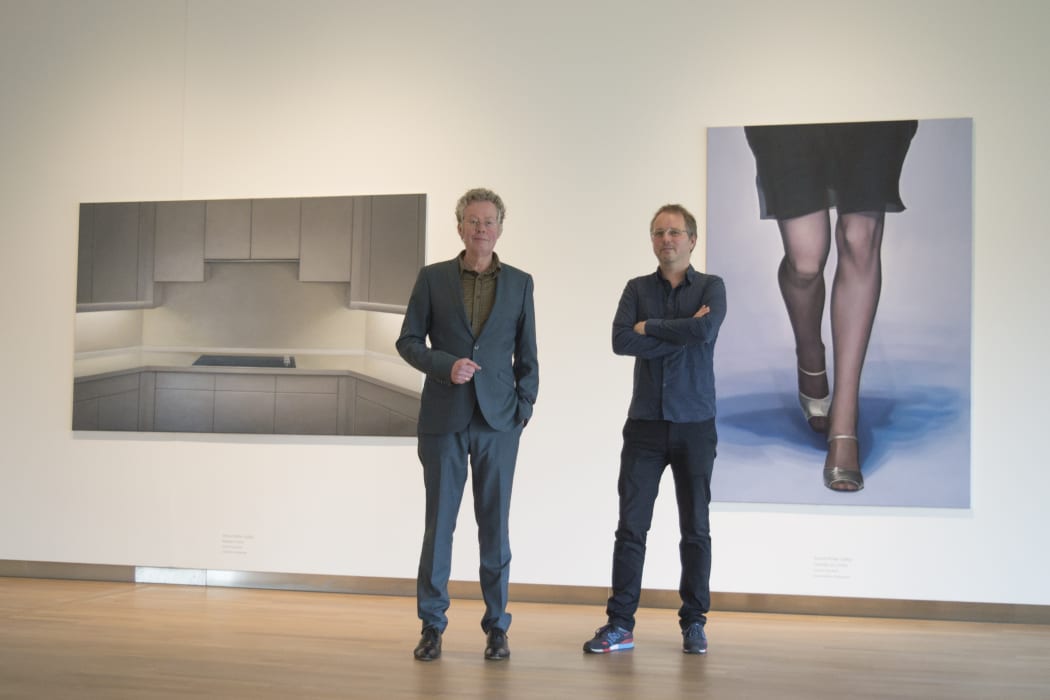 Arnout Killian's second solo show with us opens next Wednesday 13th November. In anticipation of his talk at the gallery next week, we asked him a few questions about the way he works and the meaning of some of his most recent paintings.
Arnout Killian, Hotel Room, 2019, oil on canvas, 165 x 200cm, £10,000.
Lisa Norris Gallery:
"You have a very special attention to light in your work, that illuminates them in a psychological way. Could you say more about the specific meaning attached to this attention to light or a specific inspiration for it? Is there an absence of a human presence for a particular reason?"


Arnout Killian:
"I cannot name one very specific inspiration for it but as a boy I was already spellbound by old Dutch masters like Vermeer and their depiction of 'actual' light . So I think when I paint I am always searching to make the light as 'real' as possible hoping to find back some of that magic. I think showing 'actual' light is something painting can be very good in because it has better colors and more material substance than photography or film.
Its hard to define a specific meaning for the attention to light in general because in every painting the meaning is different (as is the light). In general I am looking for a special atmosphere, somewhere in between stillness and a cinematic tension. For me the magic thing about painting is that it can create another place that you can enter, in a visual but also in a mental way. That is also why there is an absence of a human presence. I like to keep the painting as open as possible. A person in the painting makes the viewer a spectator looking at a scene and stops him from getting involved in the space of the painting himself."
Arnout Killian, Bedside Lamp, 2018, oil on canvas 95 x 95 cm, £5200
LISA NORRIS GAILERY:
"As an artist you must regularly experience others projecting meaning and interpretation onto your work. What would you say about your work (specifically in reference to this range of work in the exhibition) and what would you like, if anything, for your audience to take from the work?"
ARNOUT KILLIAN:
"First of all, I don't belong to the type of artist that believes only his idea about the thing he makes is the right one. I am very suspicious about artists explaining exactly what their art is about because the reasons why they made it can be totally different from what they say. But then there is the work itself. I strongly believe in the end a work has a life and personality of its own. So as different people react differently to the same person, different people react differently to the same artwork. I can live with that, as long as the viewer took time to approach the artwork with an open mind and tries to get engaged in it."
Arnout Killian, Lamp, 2018, oil on canvas, 60 x 60cm, £2750 (SOLD)
LISA NORRIS GALLERY:
"Do you work in series and thematically when it comes to your painting as we have a range of work from different periods of your career?"
ARNOUT KILLIAN:
"For me making a series works well because I feel I can dig deeper into a subject. It's not that I make a series and then a next one etc. but I like to revisit certain subjects and then slowly a series come out of that. My problem is that I get bored quickly so working on different series keeps the process fresh for me. Different subjects bring more of a challenge into the process of painting. Painting a landscape is a totally different ball game to painting an interior for example."
Silent Light
opens Wednesday 13th November 6.30pm - 8.30pm, with an artist talk by Arnout Killian at 7pm.