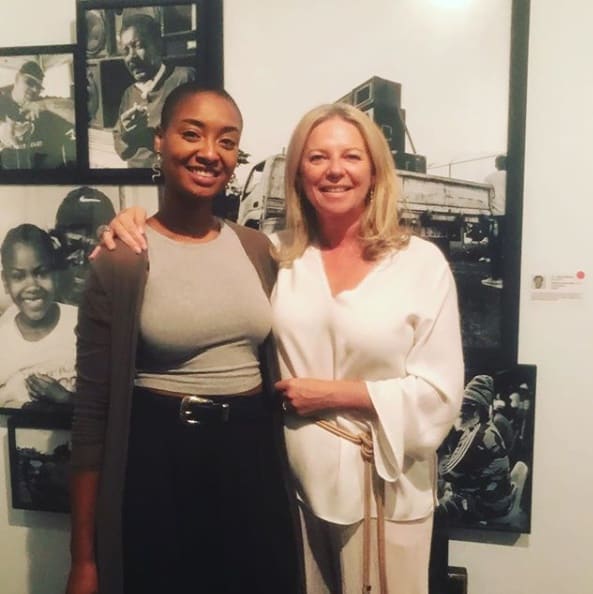 There are a myriad of art prizes out there, including the Turner Prize held at the Tate Britain each year, which can really catapult an artists career into a whole new level of prestige and success. Great art can change lives. It encourages us to think differently. Art prizes and their resulting exhibitions are a really great way of doing this. In light of Lisa having just got back from Bermuda as a judge on the panel for the Charman art prize, we thought it an opportune moment to reflect on some of our artists from the gallery and their accolades.
DANIEL MULLEN
Daniel Mullen infront of, Emergence 1 and 2, (diptych), acrylic on canvas, 170 x 120cm, £12 500
Daniel Mullen has been nominated for the prestigious Buning Brongers Prize in Painting in 2012, and nominated for the Royal Prize for Painting in 2014, and recently shortlisted for the Aesthetica Art Prize this year.

ABOUT:
The Buning Brongers Award is a biennial Dutch art prize for young artists. This award is the biggest private art prize of the Netherlands. The prize consists of the sum of €4500. For the winners, there is an exhibition organized, an award ceremony at Arti et Amicitiae and a catalogue published. Candidates for the prize are nominated by the Dutch art schools.

The Royal Award for Modern Painting is created to encourage gifted young painters and support their artistic development. The jury, consists of artists, curators and art critics and the award ceremony is held in the Royal palace in Amsterdam.

The Aesthetica Art Prize is a celebration of excellence in art from across the world. It comprises of an annual exhibition held in York art gallery that invites audiences to explore, discover and engage with new ideas.

GWENYTH FUGARD
Gwenyth Fugard at the M.A show at the City and Guild School of art which led to her solo exhibition at the Lisa Norris Gallery, Accidental Beauty in 2018.
Gwenyth Fugard won the Tony Carter Prize in 2017 and last year was a recipient of the Collyer Bristow Exeptional Art Award in 2018.
ABOUT:

The Tony Carter award was created in 2017 in memory of Tony Carter (1943-2016), the Art School's Principal from 2000 to 2014 and an admired artist, teacher and thinker, the award recognises Tony's belief that tactile visual knowledge operates at the heart of all creative practices, Gwenyth's work demonstrated excellence in the use of materials and processes, a principle that remains central to the Art School's ethos.

The Collyer Bristow Award is a biennial competition for graduates (BA or MA) to apply for the opportunity to be part of a curated group exhibition at Collyer Bristow Gallery. The award is aimed at supporting new graduate artists in the precarious initial years after graduation.
BERND MECHLER
Bernd Mechler in front of Triggering Moments 1 (SOLD) and Triggering Moments II (SOLD).
Bernd Mechler was the recipient of the Villa Romana Prize in 1992. He is in good company as previous recipients of the award include Max Beckmann in 1906 and Georg Baselitz in 1965.

ABOUT:
The Villa Romana Prize is an art prize awarded by the Deutscher Kunstlerbund. It was established in 1905 and is the oldest German art award. The prize consists of a one-year artistic residence in the Villa Romana, a nineteenth-century villa on the Via Senese in the southern outskirts of Florence in Tuscany in central Italy.
EMILY MOORE
Emily Moore at the opening of Field of Vision, infront of Spring Summit, 2017, gesso, acrylic, varnish on panel, 51 x 61 cm (£1400) and Portes' Mountain 5, 2017, gesso, acrylic on panel, 81 x 120 cm (£2750)
Emily Moore was nominated for the Griffin Art prize in 2013 and shortlisted for the Open Contemporary young artist award this year.



ABOUT:
The Griffin Art Prize was launched by Griffin Gallery in 2012, it is an annual award for UK-based recent graduates in painting and drawing designed to provide a unique package of support to one outstanding artist. It is now known as the Elephant x Griffin Art Prize.
The Open Contemporary Young Artist Award is an opportunity for artists 35 years old or younger working in the UK to win £1000 and exhibit work at The Biscuit Factory as well as raising the profile of successful entrants and raise awareness of mixed contemporary art practices.
MEANWHILE IN BERMUDA...
Lisa Norris, one of this year's jurors of the Charman Art Prize with the prize winner.
The Charman Prize is a unique competition and exhibition for art inspired by Bermuda. It was established in 2008 to honour and support local and resident artists. This competition is sponsored by patron, Mr. John Charman, a local businessman and avid art collector. The exhibition is held every other year at the Masterworks Museum of Bermuda.
It is abundantly clear given the nominations and prizes these artists have won, that it is a particularly helpful step forward in the development of their artistic careers and not only gives them exposure and critical acclaim, but also widens their potential audience, commercial appeal and exhibiting opportunities, as well as giving them a sometime much needed confidence boost.