The irregular shape of this Ice rug makes an arresting focal point, while the subtle shades and palette of the paintings anchor the room. In this room we pick up on the palette and pattern of the rug, showing the work of Gwenyth Fugard, Eberhard Ross, and Lydia Mammes.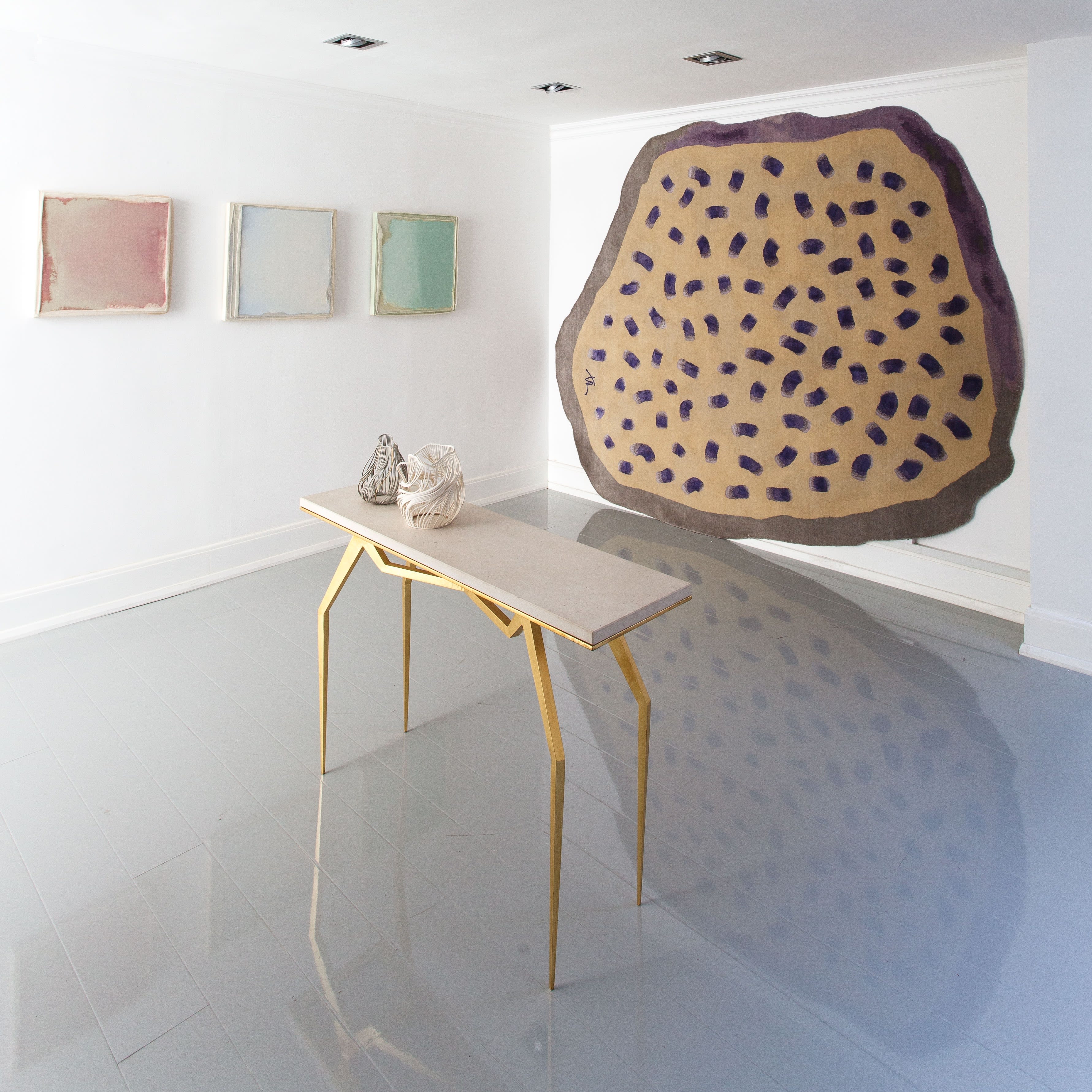 Paintings by Lydia Mammes and Gwenyth Fugard (from £2250) and sculpture by Lauren Nauman from £720.
Ice rug by Olga Malyeva from the Frozen rug collection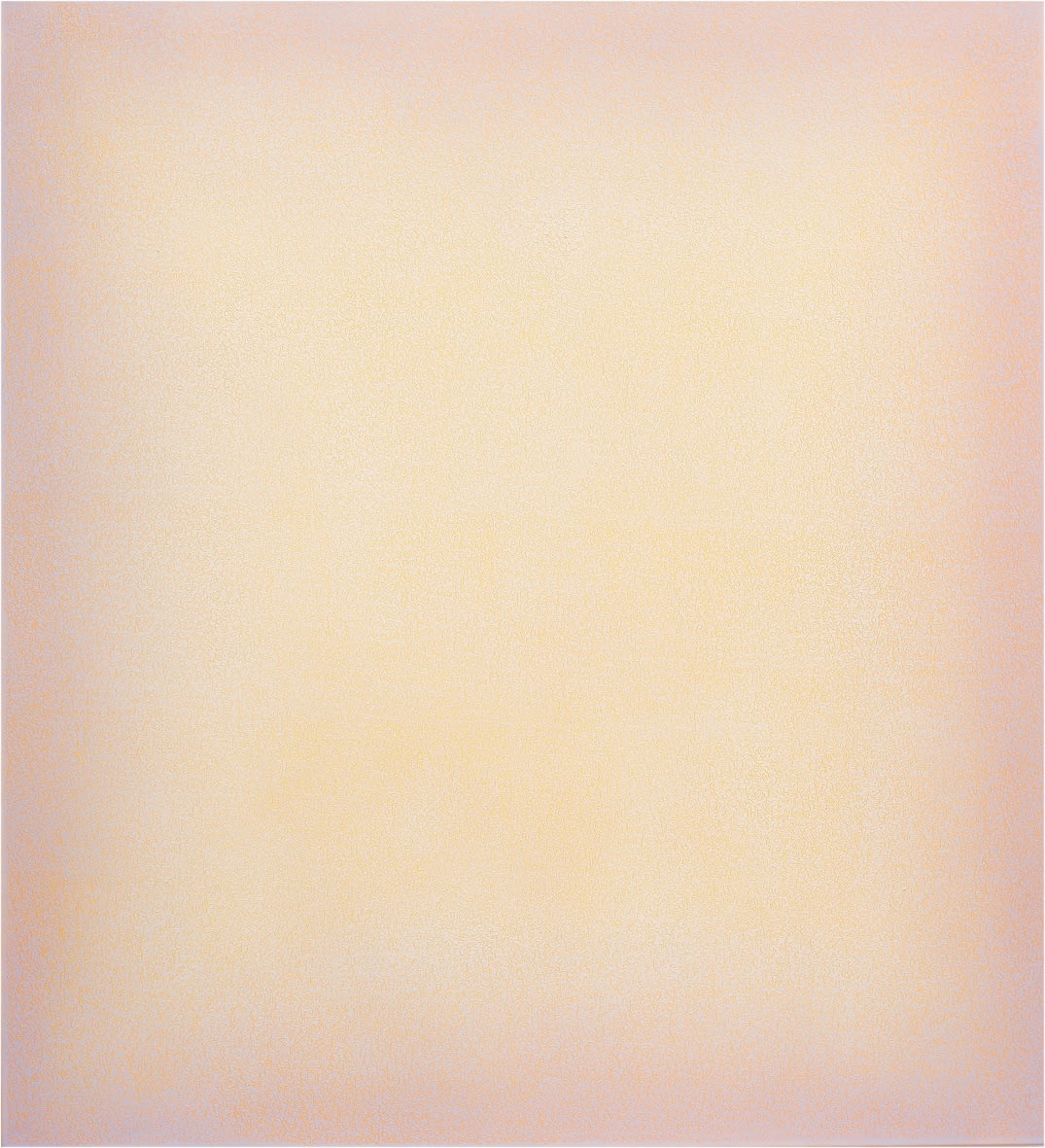 Eberhard Ross, Speicher 04314, oil on canvas, 110 x 100cm £6000
As with painting, we can approach rugs using a similar vocabulary of style, technique and palette. Their inspiration coming from a passion for the avantgarde, Modernist influence of geometric shapes and abstract compositions.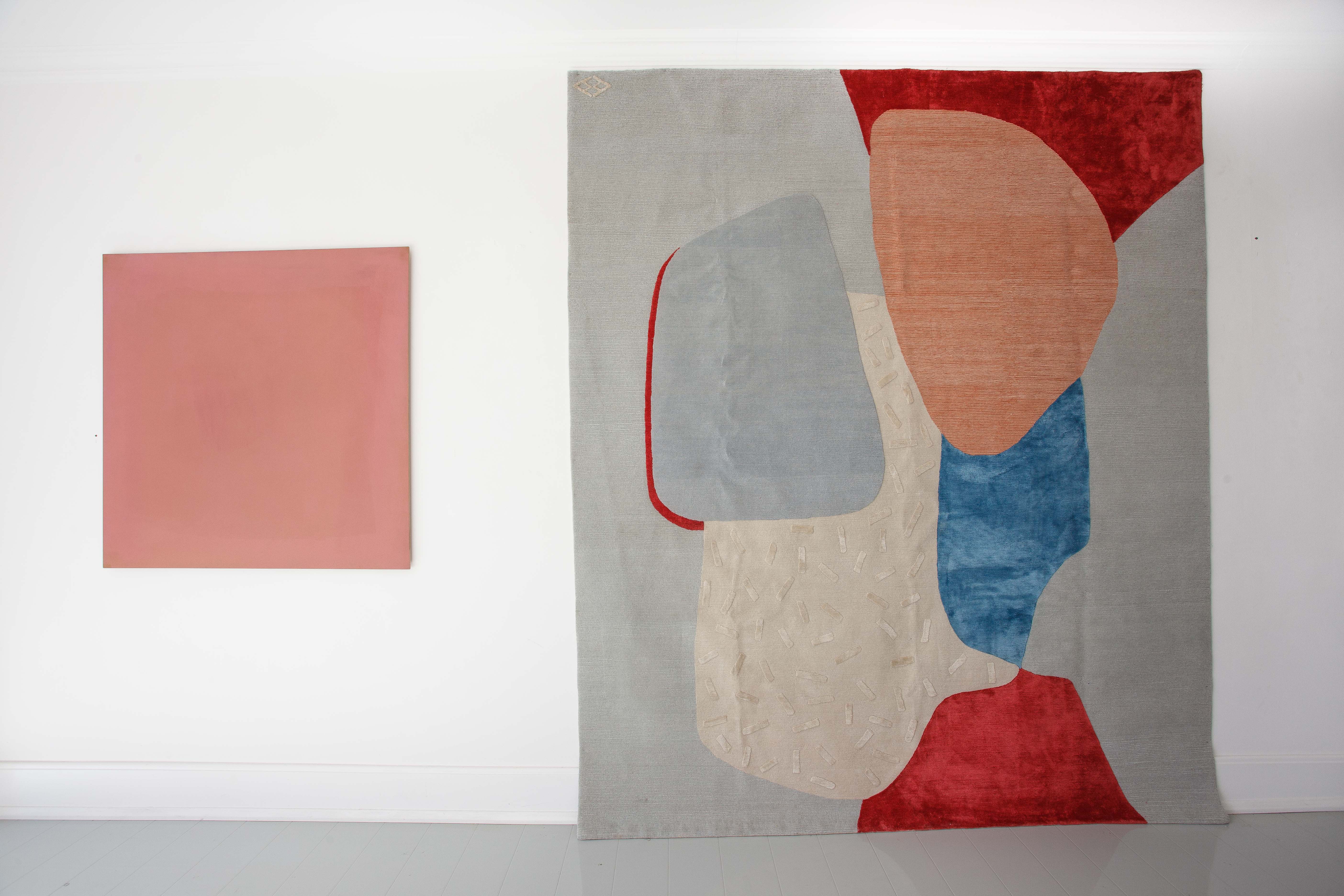 Lydia Mammes, Untitled, acrylic on panel, £4750
Composition X rug by Atelier Tapis Rouge
The colourful palette and modernist forms of Composition X sit beautifully next to the candy coloured paintings of Cecile van Hanja and Lydia Mammes. And the abstract forms and interweaving of brushstrokes of Lars Rylander, echo the composition of the rug and create a room of high octane colour that still has a harmonious balance.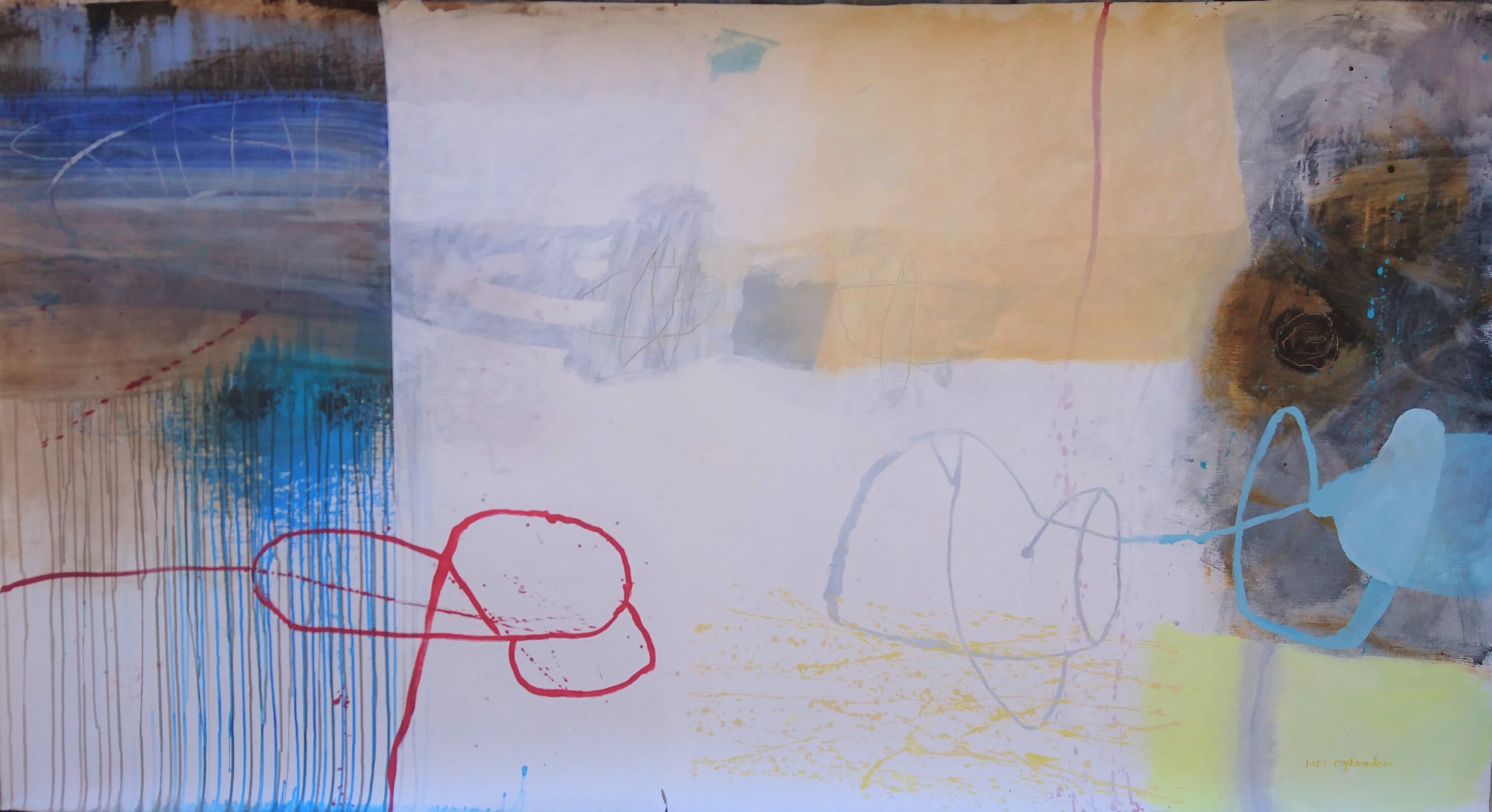 Lars Rylander, Untitled, 2019, acrylic on canvas, 100 x 200cm, £4800
Mike Shilov presented Smeraldo, an example from his La Scala collection, which is inspired by Pompeiian frescoes, Mark Rothko paintings and the architectural shapes and finishings of Italian staircases. In his talk, he described how the staircase is a symbol of eternal movement and reflection of fate itself – with its ups and downs, ascents and descents. His rugs have a linear quality that align themselves well with paintings by Daniel Mullen and Arnout Killian.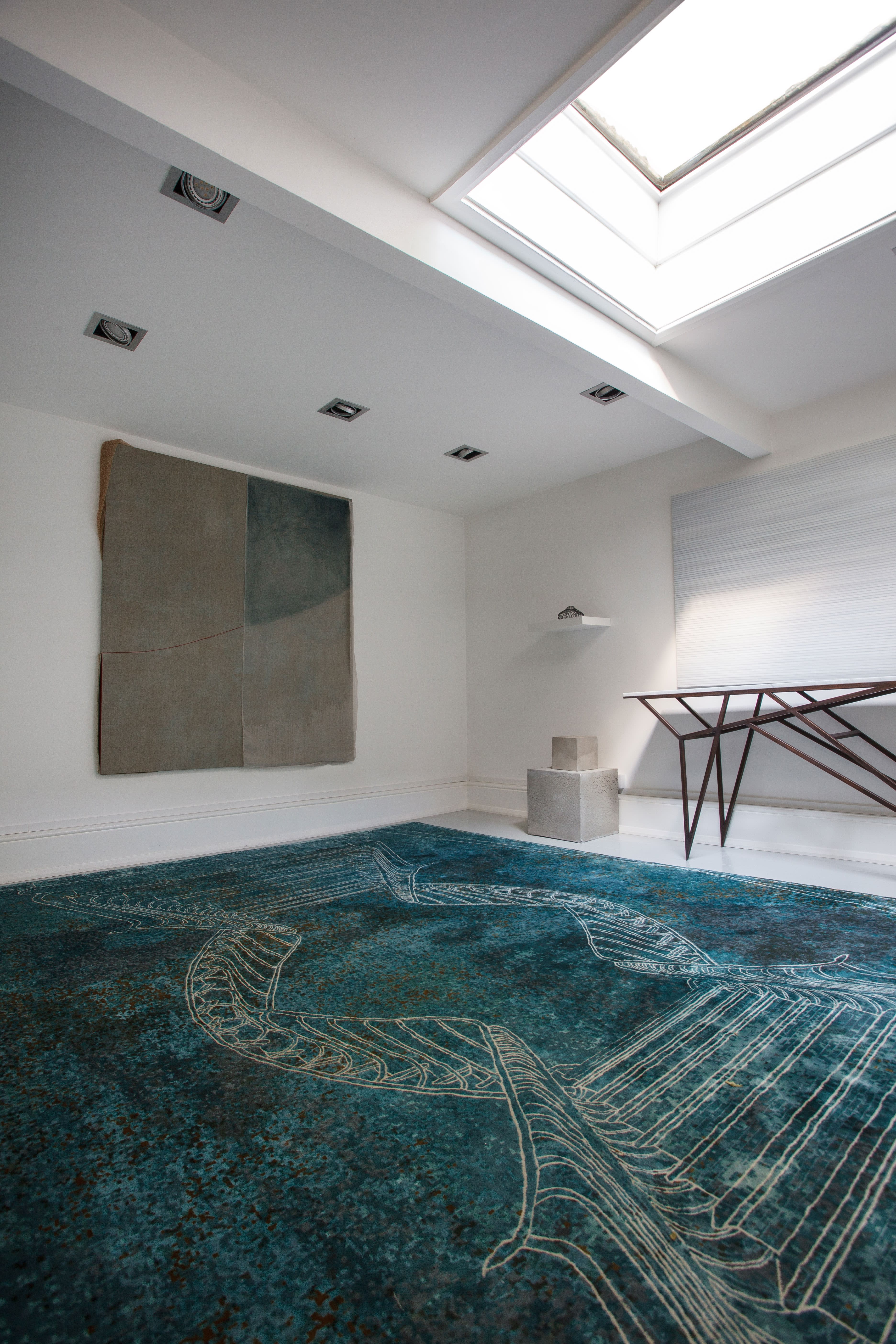 Gwenyth Fugard, Construct 10 (£6500) and Arnout Killian Closed(£4650), with Lauren Nauman sculpture (from £500),
Smeraldo rug by .Mike Shilov,
A rug, like a painting, unifies a living space. It can bring all the elements in a room together. Just as a painting harnesses the wall, a rug can anchor a floor. With this exhibition we try to reframe the relationship of floor and wall, rug and painting, and consider their creative links to the visual language of painting.
Painting with Thread continues until October 29th.