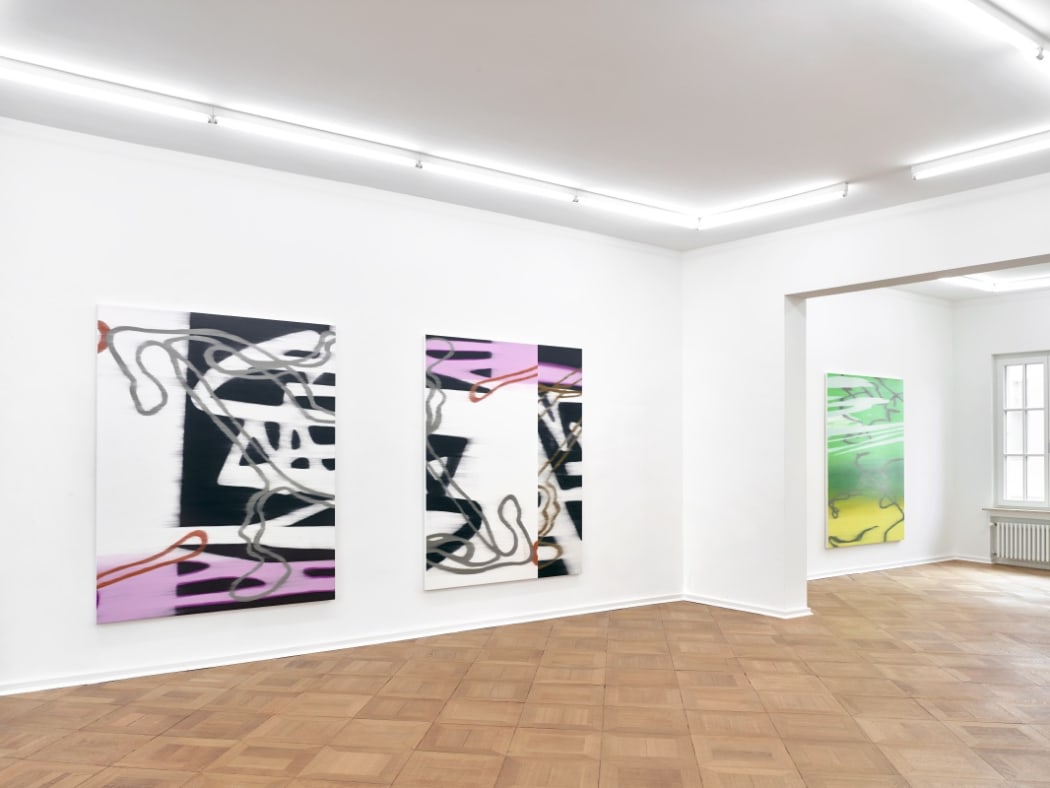 One of the most frequent questions we get asked in the gallery is where do you find your artists. Quite often the second question that follows, is how do you know they are good?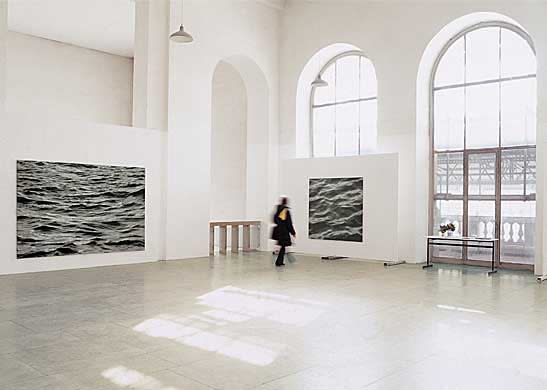 Sonja Weber's work installed at the the Kunsthaus in Nuremberg, for the Nuremberger Art Prize.
When it comes to sourcing them and separating great abstract art out from the rest, we rely on the following criteria.
NUMBER 1
We have to love it! And when we say love, we mean the kind of love that makes you want to stare at it for hours, and come back to it and live with it for the rest of your life and feel you love it just as much as when you first caught sight of it.
Frank Hinrichs, Skripturen series, exhibition installation.
NUMBER 2
Visiting art fairs, art prizes, judging, attending degree shows and visiting the studios of emerging and mid-career artists all means you are getting an idea of the work out there and the work being practised and filtering through mentally what appeals and what doesn't. Or in the case of the gallery, what fits in with our agenda and identity and what doesn't.
NUMBER 3
If you have worked in the same sector for so many years you are certainly going to develop an expertise in that area. It works the same in the art world. Having spent the last 50 years+ combined between the two of us looking at copious amounts of paintings and sculpture and design, we have an inner radar for what we like and for what is quality. Our eyes have seen a lot and you learn to filter. That is principally why people consult your expertise as a gallerist and trust you to place artwork in their homes.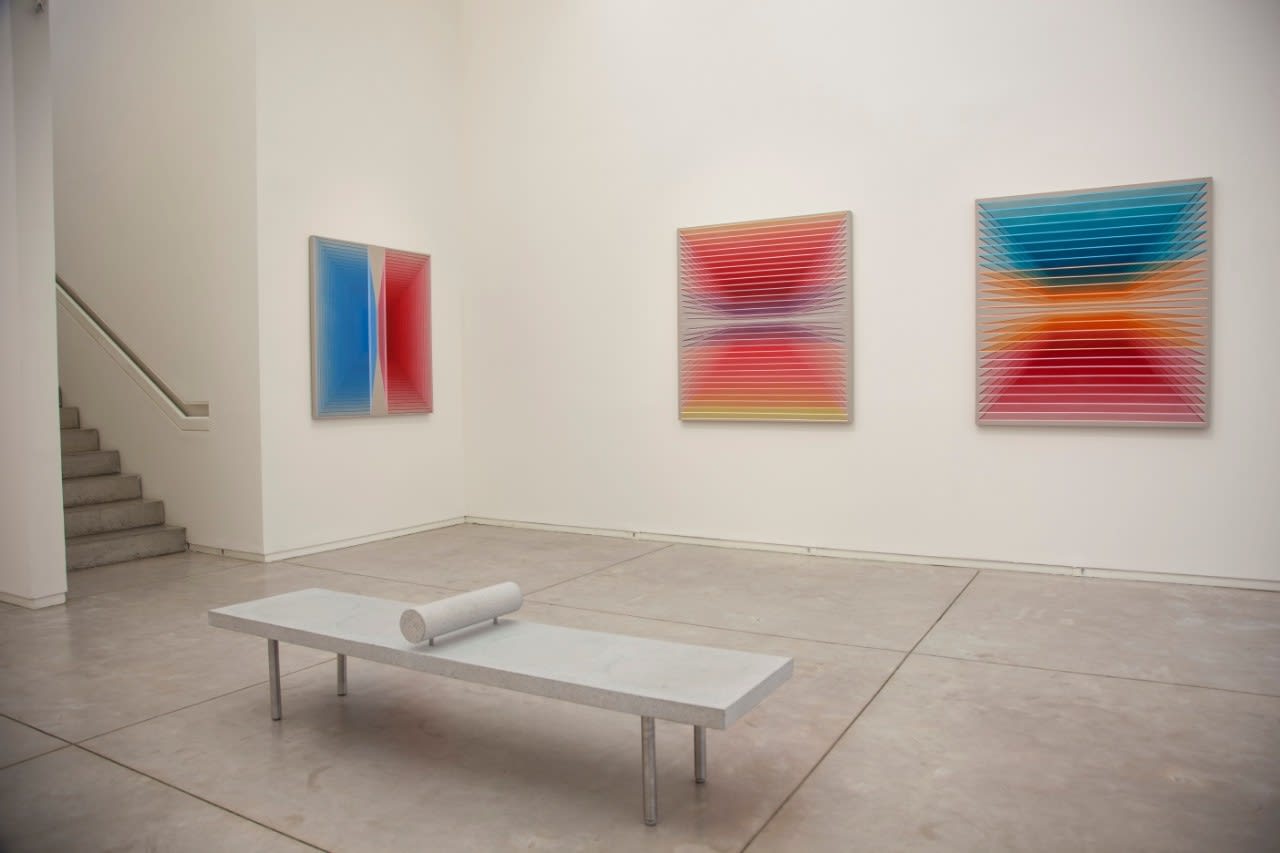 Daniel Mullen's solo show in Sao Paulo.
NUMBER 4
The sealing deal is often an artist's education and C.V. An artist who has been to an established art school or academy and has subsequently exhibited consistently over the years, is generally someone we feel we can have a good working collaboration with. A lot of our artists have been bought for museum collections or have exhibited in museum exhibitions. There are of course always exceptions, and decisions are never clear cut, but then that is when we weigh up all the criteria and listen to our gut instincts.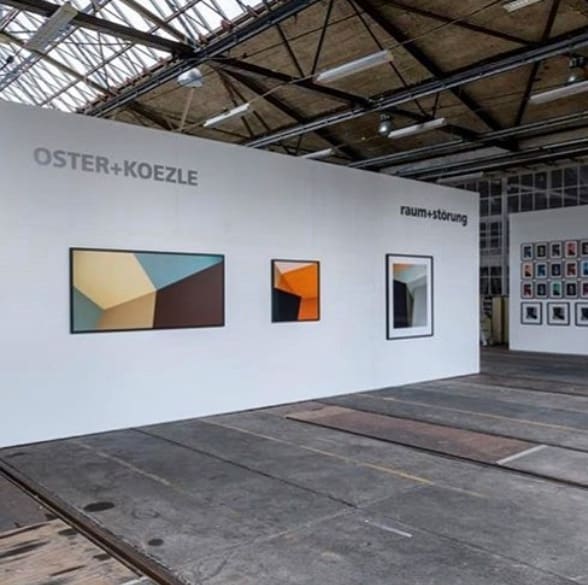 An installation view of OSTER+KOEZLE's latest exhibition raum+storung in Jena as part of the official program celebrating 100 years of the Bauhaus. Some of their pieces will be in our forthcoming show, Legacy of the Bauhaus.
Ultimately it is about developing a long-term relationship with our artists and supporting their careers as their work evolves over the years.
Our next exhibition Legacy of the Bauhaus opens June 13th 2019. Damian Brenninkmeyer will be presenting a talk on the contemporary legacy of the Bauhaus in the context of four of the gallery's artists. This talk will be taking place during the Kensington and Chelsea art weekend at 12 noon on Sunday June 30th.