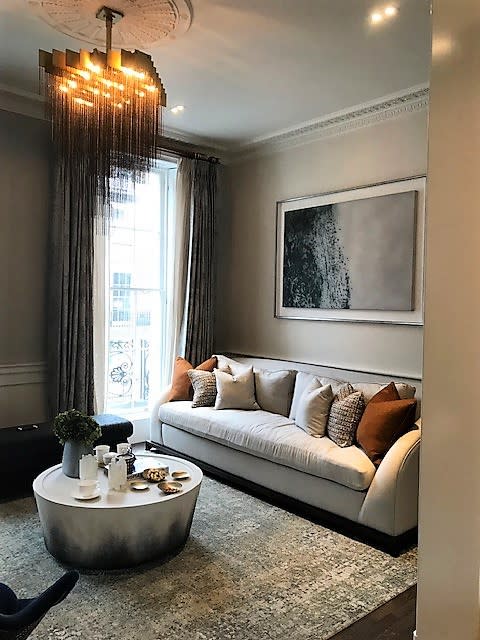 If you find you have thought of everything in your home design wise but are still sat staring at blank walls, let us give you a few tips on where to start and which walls or spaces are the most important. So you are able to find a place for some art, so it sits in happy conversation with the surrounding furnishings and so it gives your home-new sight lines, new depth and dynamism, and of course, satisfying colors.
Installation shot - Lydia Mammes
Number 1. Above the fireplace.
This spot is a key space to hang a painting. It is normally a prime wall of the reception room and often central to the room. The hanging of this painting brought a new dimension to the living space-and a horizon-line of soft color coming in from which ever direction you look.
Number 2. Above the sofa.
This is another prime spot we often get asked for advice and consultation on. In living rooms, people are usually sitting, so artwork should be lower.You want the picture to be part of the whole ensemble. Hanging over a sofa is a way of opening up the room and gives you a central focal point.
Number 3. Main entrance.
Many of our clients like to have something in their main hallway or landing. An artwork that is first glimpsed as the door opens and you walk in. The eye is drawn to it and spaces are linked that way. It is the first sign of being home and it makes a statement. Plus you get closer to the art in these spaces.
Installation shot. Jane Goodwin.
No. 4 The dinning room.
Always the focal point for guests and entertaining and even when you have no walls, this creative client has found a way of having art for her guest to contemplate when seated at dinner.
Installation shot. Sonja Weber.
Number 5. The bedroom.
Above the bed or above a dressing table is another popular request from our clients. Often these works are softer in nature or in palette and add a much needed sense of calm and tranquilty to what is supposed to be one of the most relaxing rooms of the house.