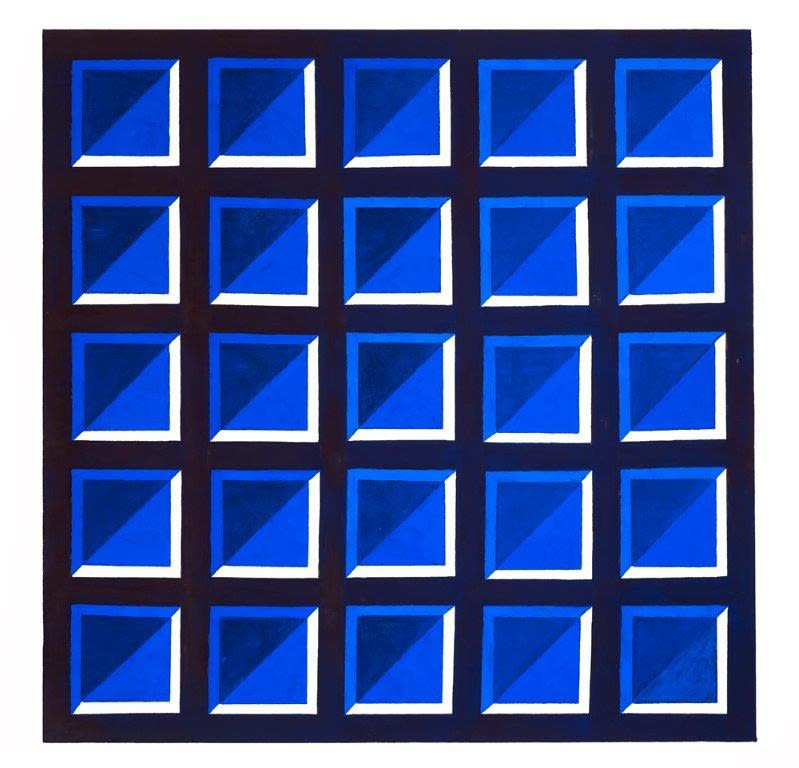 Op art, short for optical art, is a style of visual art that uses optical illusions. Op art works are abstract, with many better known pieces created in black and white. Typically, they give the viewer the impression of movement, hidden images, flashing and vibrating patterns, or of receding and protracting.
Bridget Riley, Silvered, 1981, oil on linen, 240.7 x 203.2 cm
Bridget Riley, Fall, 1963, oil on linen,, 141 x 140.5 cm
OVERVIEW

Op painting uses a framework of purely geometric forms as the basis for its effects. It also draws on colour theory and the physiology and psychology of perception. One of the most famous examples is of course the epic body of work produced by the artist Bridget Riley.
During the 1950s and 1960s, a number of artists became particularly interested in using abstraction to explore the optical and kinetic potential of painting and sculpture. In many cases they used a precise geometric abstraction to achieve the desired optic or retinal response.

Jane Goodwin's blue series of paintings uses this principle of internal geometry. She describes how she sees subtle variations on this theme everywhere: 'The stripes and lines make a visual urban language of a world that man has created...' She even references the geometric patterns on the tube seats as part of the inspiration for some of her work.
JANE GOODWIN, Blue on Blue Series 6, No. 1, oil on canvas, 128 x 128cm £7,000