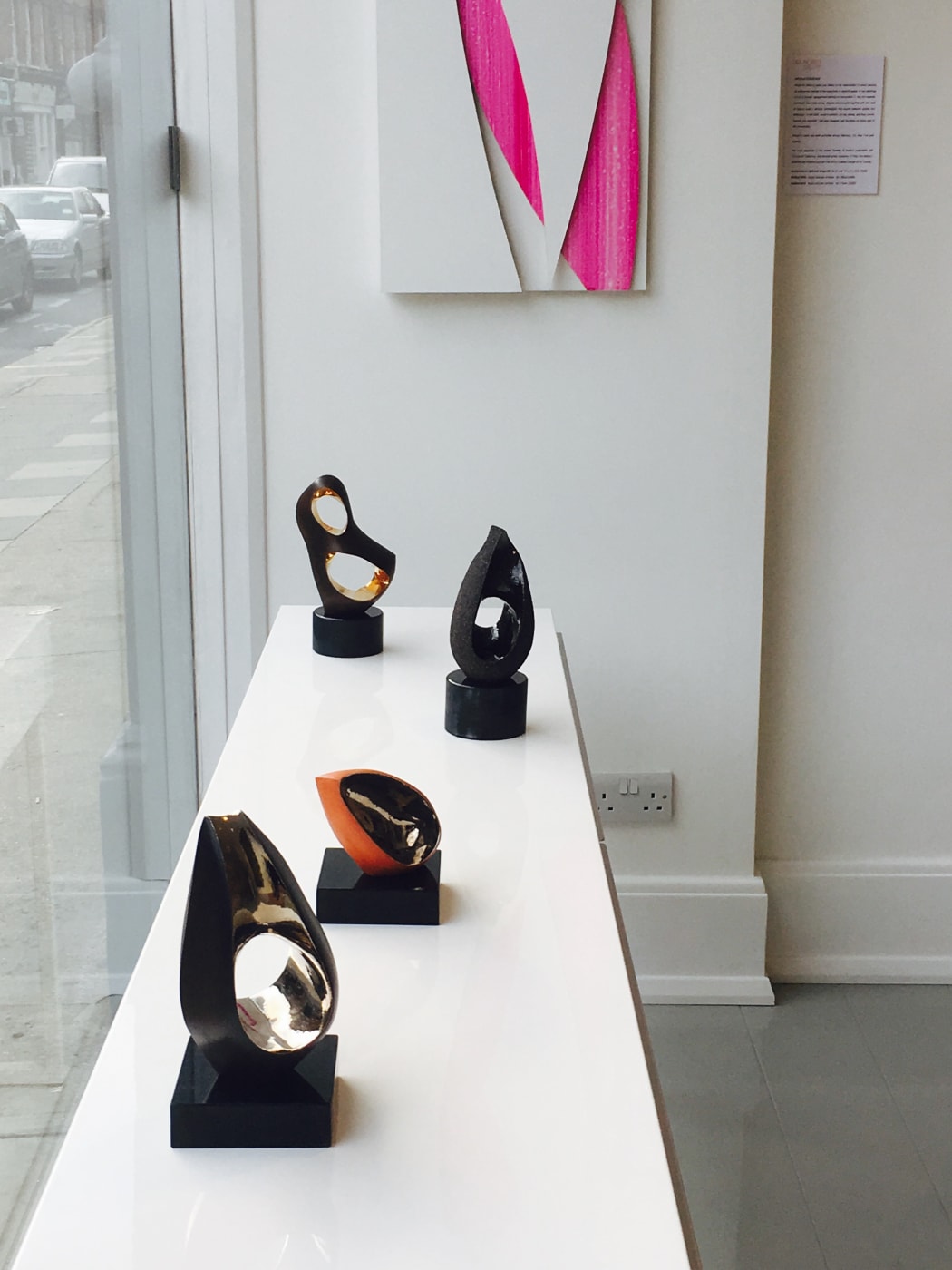 Enthusiasm for ceramics is stronger than ever and artists working in the medium continue to maintain a strong foothold in the art market. Countless artists today are shifting the perception of ceramics, whether it is taking the shape of a functional vessel or a more imaginative, less pragmatic form, they are contributing to the future development of contemporary ceramics. The vast majority of the sculpture we have in the gallery is priced under £1500, offering a great entry point for the novice collector, to purchase an object which will maintain its value and appeal for years to come.
Matt Sherratt at the wheel in his studio.
Matt Sherratt works with a specific type of clay, a white kind from Stoke that is the strongest kind you can get. In his college years he ditched slip-casting in favour of clay-throwing to give his practice greater creative freedom. He moulds and sculpts the clay on a turning wheel to create the basic organic, curved forms. This process has evolved and refined over the course of many years.
Lauren Nauman's pieces start from £500.
Working in a completely opposite way to Matt Sherratt, Lauren Nauman's body of work is an engaging display of how clay can organically move in the kiln. Through the power of the kilns heat and the plasticity of the clay, her pieces move like fabric to evolve into a wire-like sculpture yet still holds the delicate physicality of porcelain. Lauren Nauman has attracted a lot of press since graduating from the Royal College of Art in 2016 including from the Daily Telegraph, The Evening Standard, House and Garden, the cover of Ceramic Review. Her pieces can be found in private and public collections around the world, including in the Nationalmuseum of Stockholm.
A selection of pieces by Jin Eui Kim, his pieces start at £250.
Jin Eui Kim's work is meticulously executed and nothing is left to chance in its exploration of tonal effects and spatial illusions. He uses subtle gradients in tone, different widths of bands and a variety of intervals between the bands to create unique optical effects. His work has been seen across the world, exhibiting relentlessly he has scooped up several awards including the Emmanuel Cooper Prize, at Ceramic Art London, as well as a substantial grant from the Art Council of Wales as a contribution towards his new project entitled "The Development of Tonal Clays and Techniques towards new Artworks".

He has pieces in the collections of the National Museum of Scotland, the National Museum of Wales, Cardiff and the Manchester Art Gallery.
One of the best things about sculpture, aside from its more accessible price point, is that it can be very flexible to display and you do not need large expanses of wall available to you. While you could opt to theatrically light display cases to make a feature wall or dot floating shelves about for smaller, more delicate pieces, you can just as easily have them casually placed on a coffee or console table.
For more information on any of the above artists, or others we represent in the gallery, please click on our artists' homepage http://www.lisanorrisgallery.com/artists/