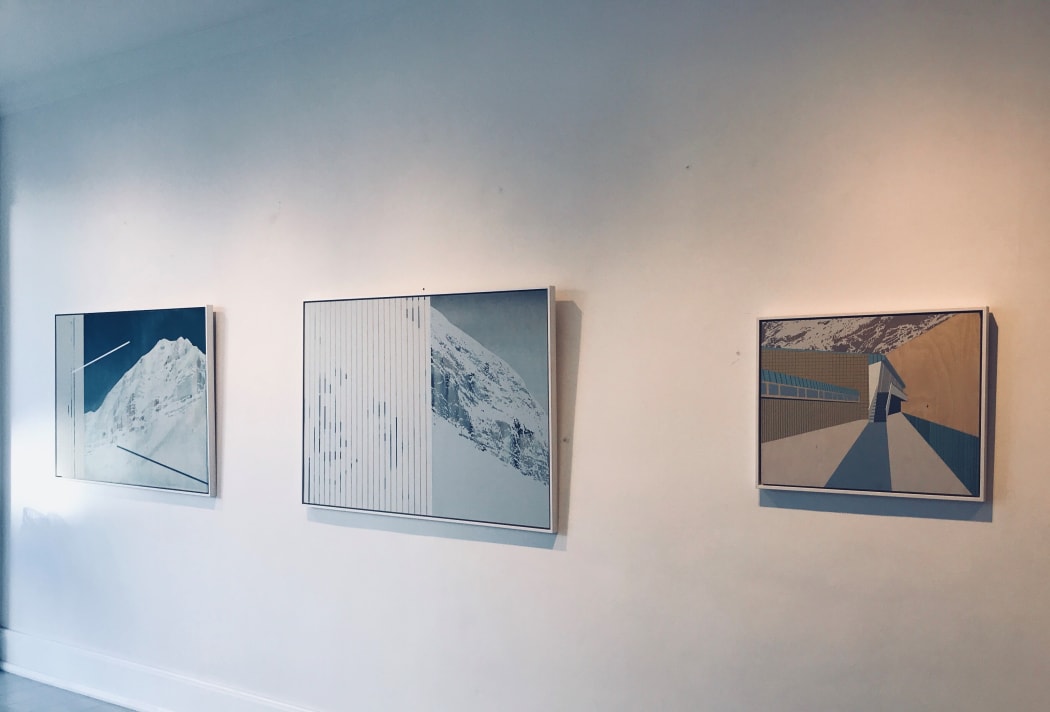 Portes' Mountain 5, 2017, Gesso, acrylic on panel, 120 x 81cm, £2750
We have curated a selection of work that represents wintry scenes as well as conjuring up an association or sensation of winter. The work of Emily Moore currently bestows a tranquil and reflective mood upon the main gallery.
EMILY MOORE
Emily works directly onto birchwood panels, building up detailed layers and maintaining the natural texture of the wood underneath. She is fascinated by the organic patterns found in the mountains or other natural settings, contrasted with the linearity of man-made structures such as the buildings that make up various ski resorts. Her predominantly icy cool hues and the lacy pattern of the snow, transport you directly to the mountainous slopes of a European ski destination.
Left: Eberhard Ross, Laud 15417, 2017, signed and dated, oil on canvas, 44 x 40cm £2100
Right: Sonja Weber, Mountains, signed and dated, Jacquard fabric, 145 x 140cm £6000
EBERHARD ROSS/ SONJA WEBER
Elsewhere in the exhibition, the radiance of the paintings by Eberhard Ross create a quiet glow of colour amidst the subtle hues of white and will have you cosied up inside staring at them for hours.

And Sonja Weber's series of jacquard mountains have found a home in winter chalets and lodges because of their contemplative stillness and visual reflection of the alpine slopes.
Emily Moore graduated from the Edinburgh College of Art in 2013. She just recently had her first solo show entitled Snowlines in Edinburgh.

Eberhard Ross studied Fine Art at Hochschule Essen and at Kunstakademie Düsseldorf in Germany and has been painting and drawing for more than thirty years.

Sonja Weber has studied textile design, Textile College Münchberg,(1988-93), then art at the Academy of Fine Arts Nuremberg (1994-8) and then Fine Art and Painting at the Academy of Fine Arts Munich (1998-2002) and has exhibited across major cities in Germany, Spain, France and China.